1st legs have taken place and it's now approaching the season make or break moments. Particularly given the past year, the monetary value of these games is massive, not just for the clubs but also for their sponsors. When teams move up the divisions their sponsors travel with them and there is a certain bond that is created. For the sponsoring brands this presents an opportunity for them to be showcased to a wider audience, and with the Championship teams a chance to feature in what is considered the biggest league in the world.
The story of the play-offs:
Last year's play-off finalists Utilita (Brentford) take on MSP Capital (Bournemouth) who look to return to the Premier League after just one season in the EFL Championship. Along with Utilita (Brentford), Swansea University (Swansea City) return to the play-offs for a second season running, but can they go further this time, facing The Investment Room (Barnsley) who have completely changed fortunes from last season where they escaped relegation by only 1 point on the final day.
In a similar story to the Championship, Amazing Thailand (Oxford United) who narrowly lost out in the final last season return to go one further this time, facing a strong VisitBlackpool.com (Blackpool) side that finished this season in 3rd place. In the other semi-final, 2 teams who finished with the exact same number of points, Great Annual Savings Group (Sunderland) and Peregrine (Lincoln City) face-off.
Another rags to riches story sees Annapurna Recruitment (Morecambe), who finished 22nd last season, climb their way into the play-offs after narrowly missing out on automatic promotion by 1 point. They see themselves up against an Essar (Tranmere Rovers) side who have the motivation of returning to League 1 after relegation last season. In the other semi-final Alzheimer's Society Cymru (Newport County) and Ecotricity (Forest Green Rovers) battle out for a place at Wembley.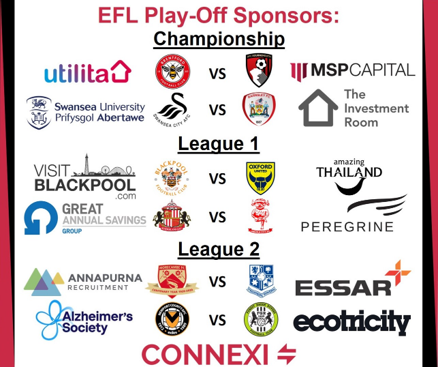 Sponsors by Industry:
Traditional industries take centre stage. Energy brands make up a quarter of the EFL play-offs sponsors, emblazoning the front of shirts for Brentford, Forest Green Rovers and Tranmere Rovers. The Finance sector also has 3 representatives, with Bournemouth in the Championship and Sunderland & Lincoln City in League 1. The other League 1 semi-final sees 2 teams sponsored by Travel & Tourism brands face-off, confirming that their will be Finance vs Travel & Tourism in the League 1 play-off final.
The final third is spread between 4 different industries, Property/Real Estate and Services for Barnsley and Morecambe. Whilst local community is represented by 2 Welsh clubs, Newport County and Swansea City, whose sponsors lie in the Charity and Education sectors.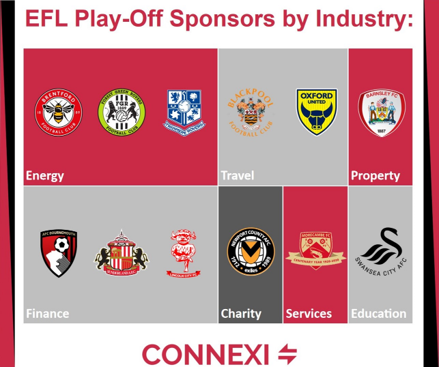 Dressing the promotion chasing teams:
Puma dominate the 2020/21 play-off class making up a third of the group. 4 teams represent the brand across all 3 divisions; Barnsley in the Championship, Blackpool and Oxford United in League 1, and Tranmere Rovers in League 2.
Despite only featuring in the Championship play-offs, Umbro takes up half of those teams with Brentford & Bournemouth. And with both teams facing off against each other, they will definitely be featuring at Wembley in what is considered the richest game in English football. The rest of the play-off teams show the diverse nature of the English Football League. 6 different sports clothing brands represent the 6 remaining teams and half of the 2020/21 EFL play-off group. Joma, Nike, Errea, Macron, Hummel and PlayerLayer represent Swansea City, Sunderland, Lincoln City, Morecambe, Newport County & Forest Green Rovers respectively.